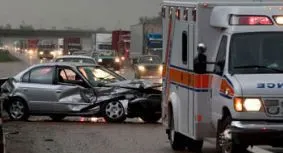 One moment everything may seem fine, when suddenly you're involved in a serious collision. Your car is damaged but also you may be injured.
How Can a Chiropractor Help Me After My Auto Accident?
Whiplash, Lower Back Pain, Neck Pain, Shoulder Pain where the seatbelt held, Mid back pain. Soft tissue type injuries of the ligaments or muscles, or tendons or discs are those that Chiropractic care is very effective in helping with recovery. Our effectiveness is due to our skillsets which are so individual to chiropractic care and which aim at restoring normal function to the neck and back and other injuries associated with auto accidents .
After an auto accident, some individuals experience indicators of whiplash injuries right away, such as blurred vision, headaches, shoulder pain, dizziness, reduced range of motion and arm pain. Whiplash can also result in minor back injuries, muscle injuries, ligament problems, and disc damage. Other individuals may still be injured yet not feel discomfort .......at first.
In our medical world we have Medical Doctors, Osteopathic Doctors, and Chiropractic Doctors.
The Medical Doctors view on disease is that of invasion or something gone wrong. Medical skillsets are geared to search for and remove invasion and search for and support the something gone wrong.
The Osteopathic Doctors view on disease originally was that of lack of proper fluid flow, be it blood, lymph, Spinal Fluid. As time has passed their education was changed to include the Medical Doctors view primarily yet I mention here originally the profession came from a different philosophy . Their original skillsets included creating movement of all joints(to restore full movement) and included soft tissue manipulation aimed to decongest and create freer fluid movement in the tissues.
The Chiropractic Doctor view on disease is that of the body is always wanting to recover, ie heal. Some form of interference must be in the way if healing is not accomplished. The Nervous System is viewed as a major tissue organizer of the body and hence our interest at examining the Nervous System and all that it supports. Our skillsets are geared to positively effect the Nervous System and remove interference from it .. We incorporate decongestion of tissues, checking for and restoring movement , freedom of joints throughout the body which involves assessing and correcting muscle functions via laser , adhesion release, use assessment, rehabilitation corrective exercise and chiropractic adjustments.
Disc Injury. Slipped Disc, Bulging Disc, Prolapsed Disc, Bad Disc, Degenerative Joint Disc Disease . Lots of descriptive terms.
How do we approach disc injury? Coming from our very biomechanical/nerve model we look at the disc bulge as an EFFECT not so much as something gone bad. We see the disc as a shock absorber surrounded by 7 layers of muscle and several ligament structures. These components are reactive to how they are in use.
A ligaments job is to hold the bones in place so the muscles have a stable piece from which to attache and pull off of. Ligaments can stop participating with their job of holding the bone in several ways.
CREEP
Ligaments will stretch also called CREEP when we hold positions for long periods of time (like sitting). Ligaments that have succumbed to lengthening (stretching or CREEP) no longer hold the bones and discs as stable as they were. The effect is that the surrounding muscles and other ligaments get surprised when they are not supported. when performing movement. This will result in a strain/sprain of those tissues with normal daily activities. Yes. Not even an injury and CREEP phenomenon will compromise the ligaments. Oh my aching back.
MISSTEP
Ligaments can also be injured in ways different than muscles. a false step or quick twist for example can pull a ligament and not injure the muscle. This pull causes the ligament to be slow and/ or unresponsive like it goes offline . No longer is it reacting to the nerve impulses coming its way. in other words it stops listening. and is no longer part of the Ligament Team of stabilizers for the spine
In response to this mechanical glitch of ligament stretching (lengthening/creep) or the ligament that has gone offline due to a misstep , the Nervous System puts in the back up guard system of the other 4 layers of muscle by tightening them. These you feel as spasmed and tight.
Chiropractic skillsets aim to restore the ligament bundle communication with the nervous system communication. Chiropractic skills will remove interference to the communication which allows the ligaments to once again stabilize the spine/muscle complex . When re-stabilized and able to react to nerve information the brain is then signaled to let go of the spasm/tightness ( guarding) from the other 4 layers of muscles of the spine.. As this releasing of the guarding muscles occurs you will feel relief from the tightening and spasms.
What does all this ligament info have to do with disc bulging slipping, degenerating (losing height), going bad, prolapsing?
When the guard layers are called into effect they hold but they also squeeze, A s the pressure is put on the discs, since they are the shock absorbers, they absorb the pressure, and as they do that they bulge. Guard layers on. Disc bulge. Guard layers off. Disc not bulged.
Discs can regain what they have lost.